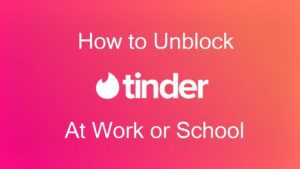 Tinder is a mobile dating app. It's the most popular and fastest way to date around the world. It uses GPS technology to find people who are interested in you nearby, so users don't need to spend time searching through profiles or sifting through messages. All they have to do is swipe right for yes and left for no. With Tinder, meeting new people has never been easier. It is available for Android, iOS, and it has a website. However, at work or school, the firewalls may block you from being able to enjoy the popular swiping app. That's because schools and workplaces consider it a distraction. Of course, it is, but you should not have to miss out. If they do, a VPN will help you unblock Tinder at work or school.
Quickstart Guide for Using a VPN to Unblock Tinder at Work or School
For the quickest and easiest way to access the Tinder app or website, follow these steps.
Sign up for ExpressVPN (includes a 30-day money back guarantee).
Once you have opened the client, locate a server in the United States.
Open a browser and go to the Tinder website, or open the app.
Access either one and swipe left or right.
Why Do You Need a VPN to Access Tinder
What are firewalls, and why do they prevent me from using Tinder? As we mentioned, work and school consider these kinds of apps to be a waste of time. If you are at work or school and want to save your data plan, though, connecting to WiFi is a solid option. That said, they usually have firewalls in place. Those are like an internet nanny that watches what you do and prevents you from accessing the network with them. By connecting to a VPN, you can get around those types of firewalls.
As we mentioned, Tinder uses GPS technology. That means it should still show your location, even if you connect to a VPN. While that can be a good thing, it won't help you spoof your geo-location. Most VPN services won't do that.
More About Tinder
Tinder is a free site/app, and it makes its money on the three different levels of premium features. These are Tinder+, Tinder Gold, and Tinder Platinum. As you can guess, the higher the level, the more benefits you get. Since it started on a college campus in 2012, it is ironic that some schools block it. Since that time, it has been downloaded more than 340 million times and is available in 190 countries worldwide.
Interestingly, Tinder has different pricing based on your age. The cut-off seems to be 30 years old. An example of that is the dramatically different pricing between the cut-offs. Why Tinder does that, we are not sure. If you are at school, though, at least you know your prices on most things are at least half as cheap. Now, we'll make a quick pricing comparison on some of the differences.
You can quickly see a difference. The first number is the cost if you are under 30, the second one is if you are over 30.
Tinder Gold, 1-month = $14.99, $29.99
Tinder Gold, 6-months full cost = $52.98, $112.99
Tinder Gold, 12-months Annual cost = $83.04, $149.99
Tinder Plus, 1-month = $4.99, $19.99
Tinder Plus, 6-months full cost = $18.00, $74.99
Tinder Plus, 12-months Annual cost = $27.96, $99.99
As you can see, the price differences are staggering.
ExpressVPN Can Unblock Tinder and So Much More
ExpressVPN will help you unblock content. Many streaming services are not available everywhere in the world. Others like Netflix have content libraries that change depending on where you are located. A VPN can help you gain access to these exclusives titles. ExpressVPN has 160 server locations across 94 countries. It will help you by masking your current IP address and giving you a new one in a place you choose. Connecting to the correct region will help you unblock content. Those wanting to watch shows can do so with unlimited bandwidth and fast speeds. ExpressVPN helps you unblock streaming services, shows, music, and more.
ExpressVPN is a reputable service. Your data will be safe while using it as the company uses strong encryption. Along with this, ExpressVPN does not keep logs of its users' activities. The service will also help protect you from outside threats. Professional gamers will be provided extra protection from DDoS attacks. We are excited to share with you our exclusive deal. When you subscribe to a year of the service, you get an extra 3 months free. ExpressVPN provides you a 30-day money-back guarantee that allows you to see the benefits of a VPN risk-free.